Home | Product Details | Stockists | Contact Us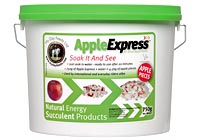 A new way to feed apples

As a busy horse owner, you really haven't got time to waste chopping apples or waiting around to make up your feeds. Apple Express is so easy and convenient to use when you're busy with horses: Simply add water and then carry on with your usual stable routine, mucking out or grooming, and by the time you get back to it (after 20 minutes or so), Apple Express will be ready to feed!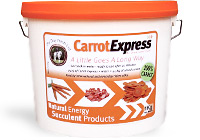 CARROTS. Every horse loves them! Tasty, succulent, and good for him too, providing natural energy and vitamins and minerals. But not so tasty when they are rotting in the bottom of the sack on the feed room floor!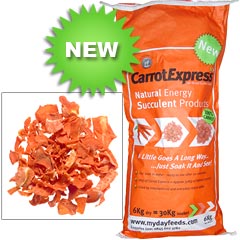 Carrot flakes now available in 6kg sacks
The creation of My Day Feeds' Managing Director, Carrot Express is an innovative new idea which is set to revolutionise the feeding of carrots to horses. Containing 100% air dried carrot pieces, Carrot Express is made from premium quality fresh, peeled carrots which are air dried and chopped.

Perfect for all types of horses and ponies, Carrot Express is also useful for travelling competition horses and horses on box rest.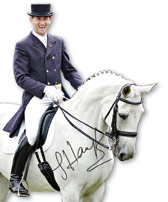 My Day Feeds Ltd was inspired by Jane Kingsley's talented dressage horse, My Day, who competes at Prix St. Georges level with international rider Paul Hayler. Paul's team of top horses, including My Day, are all great fans of Carrot Express!

"What a brilliant idea, I wish it had been done a long time ago. Carrot Express is useful both at home or abroad as a great source of nutrients."
International dressage rider Paul Hayler (pictured riding 'My Day')

"My horse seemed to particularly like them, always a bonus when you're 24! My friend's 39 year old also thought they were yummy as well and found them easier to eat as his teeth are not what they used to be!" Lisa Phillips

"The dried carrots were great," said Alex Hamilton-White who has been feeding the product to her horse Robyn. "They looked just like the real thing and Robyn took a liking to them."
www.horseandhound.co.uk

"Carrot Express makes my horses day." Kuchina Johnson www.kuchina.com